Hooky Day with Bae and Rosé (sponsored Terlato Rosé)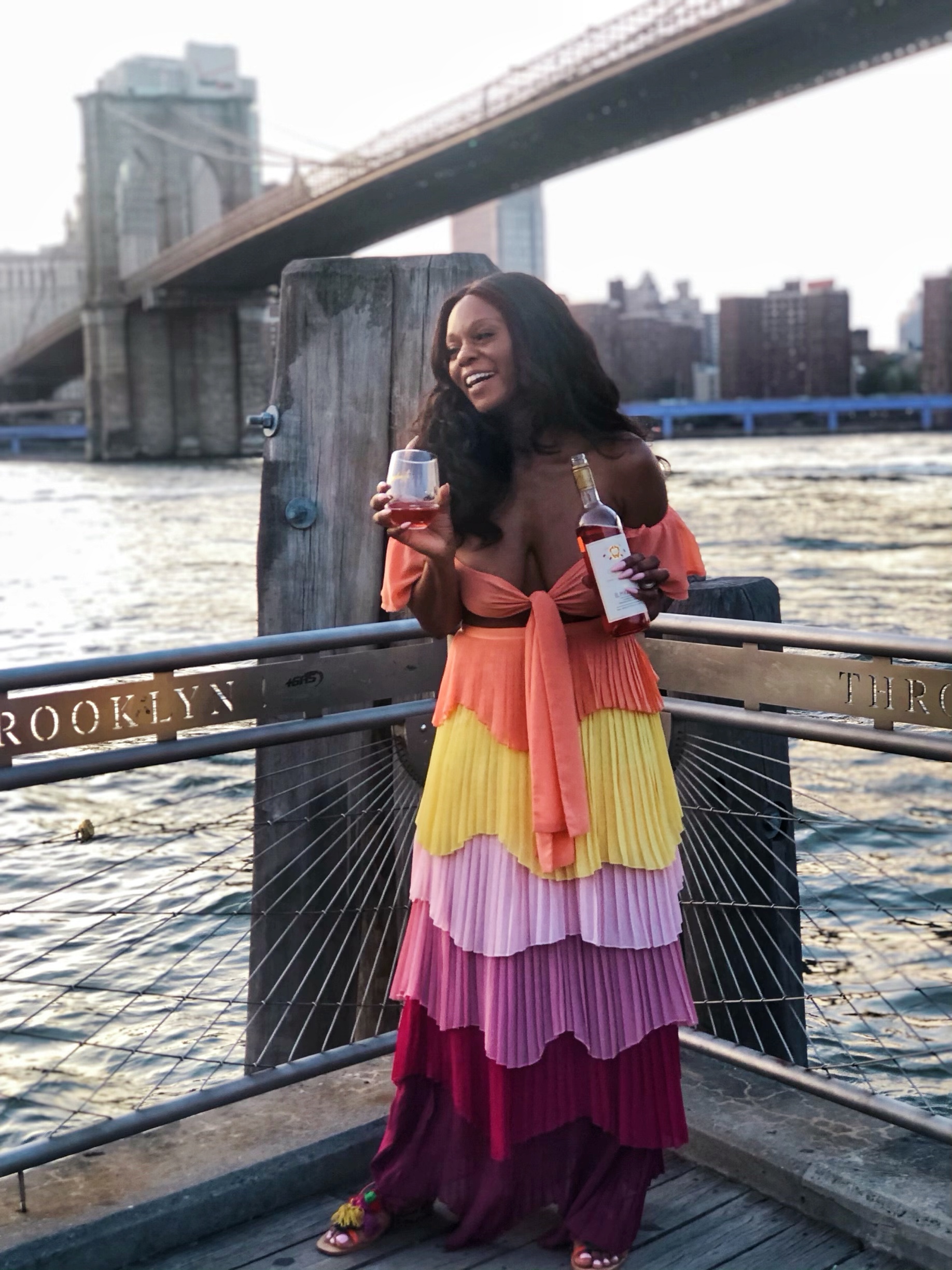 Today I decided to play hooky from work. Life can be overwhelming, that's when you need to call time out - take a step back and do something fun. Especially with the special person in your life.
Bae left at the top of the week for a work trip, and I had a jam-packed week which started with the Harlem 100th celebration at Cove Lounge.
Friday I twirled through Harlem, for the 100 Black Men and Alpha Phi Alpha Fraternity Inc. all white party. My Saturday began hosting brunchbabes at the Boss Women Connect V.I.P brunch experience and ended with an intimate all-white soiree at my Sorority Sisters home. All that twirling left me spinning, and I just needed to be still and re-connect.
Since Rosé is the Brunchnista summer drink of choice, we decided to grab II Poggione Brancato Rosato Di Toscana courtesy of Terlato Rosé. With Rosé and Brunchnista stemless wine glasses in tow, we set out for day date at Brooklyn Bridge Park. This Italian Rosé is Fantastic! It's bright pink, with a fresh, crisp taste highlighted by delicious strawberry, cherry, and raspberry aromas. This pink-fruity combination is such a versatile drink, it pairs perfectly with sweet and savory foods and you can enjoy it at the beach picnic or dinner table.
For the first part of our date, we sat by the water sipping II Poggione Brancato Rosato which paired perfectly with our fruit and cheese spread. We laughed, cracked jokes, and set our intentions for the rest of the year. We toasted our wins thus far and vowed to go harder, so we'd have more to celebrate in 2019.
Next, we took a pleasant handheld stroll along the waterfront park, enjoying the scenery and the rare opportunity to be a tourist in our hometown. Of course, no date with the Brunchnista is complete without a photoshoot and bae obliged, as long as he could get some cool shots too. Hunger interrupted our mini photo shoot, and we headed to my favorite restaurant, Sugar Cane Raw Bar and Grill for some light, delicious bites. We chose to sit outside on the patio and enjoy the great summer weather we've been waiting for all year long.
As our hooky date came to a close, we decided to have one final sunset toast to mark the end of a day well spent. If you can play hooky with your partner, I highly suggest you do it. While you're at it grab a bottle of II Poggione Brancato Rosato. The elegant fruit aromas linger on your palate, and you'll find yourself reaching for it all summer long. Tomorrow we will return to the work and worries, but today I spent a perfect day - playing hooky with Bae and Rosé.